In connection with your purchase of Universal Orlando products and your visit to Universal Orlando, including Universal Studios Florida, Universal's Islands of Adventure, Universal's Volcano Bay, Universal CityWalk, and the Universal Orlando Resort hotels, please be advised that you must follow Universal Orlando's policies, CDC guidelines and the recommendations of health officials.  Please note that any public location where people are present provides an inherent risk of exposure to COVID-19 and Universal Orlando cannot guarantee that you will not be exposed during your visit.  By visiting Universal Orlando, you acknowledge and agree that you assume these inherent risks associated with attendance.  When you enter Universal Orlando, you understand that you are subject to the Universal Orlando terms of service (including arbitration, class action waiver, assumption of risk, and infectious disease release of liability) located at https://www.universalorlando.com/web/en/us/terms-of-service/reopening-safety-info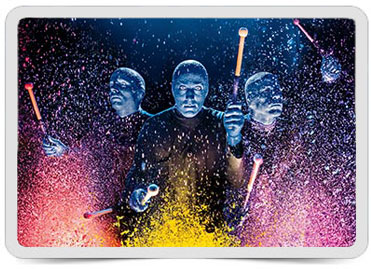 Blue Man Group has taken their indescribable live celebration of art, technology, and music to a whole new level at Universal Orlando® Resort. Forget what you know—that was then, this is wow. Experience the wonder of Blue Man Group with incredible new performances, astounding new music and an all-new stage. It's science, it's laughter, it's that creative urge you feel inside and want to explore. Become part of the new Blue Man Group show from the minute you step inside the theatre.
Blue Man Group is a show that has quickly swept the nation. Winning the hearts and enthusiasm of audiences across the U.S. this show is something everyone should have an opportunity to experience! This widely popular show has a location right here in Central Florida at Universal's CityWalk! Located right between the Universal Studios and Islands of Adventure theme park this awesome experience is the perfect way to end any day! With spectacular entertainment and comedy we can assure you that you will leave laughing and reminiscing on you're favorite parts and performances!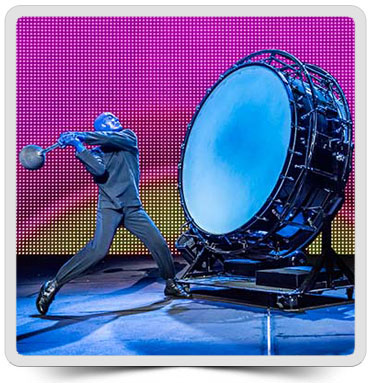 Blue Man Group combines new and unique techniques together to bring you an amazing combination of lights, sound and comedy that will have you on the edge of you're seat the entire time! As soon as you enter the auditorium you will find yourself laughing at the snarky remarks and comical text scrolling in front of you. Then as the lights dim your anticipation will rise. Suddenly the stage will light up with three separate colors. Each light will be coming from a drum, and as you're hosts begin to drum the wild display of dancing lights are magnified by water splashes.
Blue Man Group has tons to offer, and the entire crowd gets involved. With outrages acts these three blue men will have you gasping for air after each comedy act! You will be amazed by how much these characters can make you laugh without any sound, only seconds later to be amazed by how much they can make you're jaw drop to their percussion.
The best place to buy tickets is through us! Save on your visit to Central Florida's most popular and innovative show when you purchase your tickets with Ticket Momma at a great discounted rate.
Legal:
*Includes free admission with presentation of your Blue Man Group show ticket to select Universal CityWalk® clubs on same date as your Blue Man Group show ticket. Not valid for separately ticketed concerts and special events. Some venues require ages 21 or older and a cover charge for admission. Valid photo ID required. Does not include admission to AMC® Universal Cineplex 20 with IMAX®, Hard Rock Live® or Hollywood Drive-in GolfTM. Subject to availability. Restrictions apply and benefits are subject to change without notice. © 2018 BMP. TM & © 2018 Universal Studios.